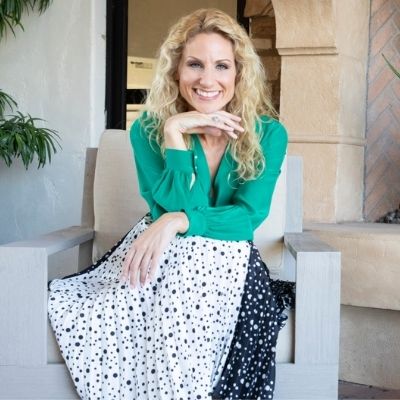 DragonFit Interview 
"Living healthy is individual for each person, what someone needs to do for their own self is what they have to learn."
Tell us a bit about yourself & what makes YOU, YOU!
I am a small town girl (Batavia, NY), growing up in the middle of 2 athletic brothers.  Family and faith are the 2 most important core values in my life that have given me the courage, strength, and wisdom to live my fullest potential. I was blessed with an awareness of mind, body, and spirit at an early age overcoming the obstacle of being diagnosed with scoliosis. This pain was healed through dance and dance later became my professional career.  Throughout my life, I have always loved seeing other people achieve greatness and I loved learning about others stories.  This passion led me and my gifts around the world dancing, teaching, and coaching truly experiencing freedom, love, and gratitude from the inside out. Being an entrepreneur since the age of 22, I know what it feels like to be with and be without certain things that I needed or thought I needed. Being the CEO of my own gifts and talents has taught me who I am, what matters most, and what living a purposeful life means.  I feel blessed to have professionally danced around the globe experiencing such opportunities as the Radio City Rockettes, dancing alongside Charo and Meatlloaf to name a few.  These recognizable names were moments of me getting to know me on the inside and out, helping me understand that every single breath in my life makes up my unique self.  I am proud that I have had the strength to pave my own individual path and stand present in who I am called to be.  For more about me, you can go to my website at www.ginapero.com
What have been your experiences in living healthy and taking care of your body?
Dancing, gymnastics, and basketball were my source of physical, mental, emotional, and spiritual health growing up.  Scoliosis led me to understanding the spine, purpose, alignment, and our structure.  Being a Radio City Rockette, I hired a health coach (food) and a heart coach  (heart/muscle/endurance/strength) to help me reach my fullest performance potential. Certification in Life Coaching enhanced my total health in mind, body, and spirit. Highly recommend having a coach!!  Brain Injury led me to knowing my brain and what keeps it healthy. Transformed my life and health to a new level in which I feel empowered everyday and feel my best.  Simonson Dance Technique certification taught me how to move effectively and efficiently in my body giving me a sense of freedom, joy, and proper alignment for me. I am able to teach others this now.  My experience is that with the help of other experts, my experiences, and guided divine wisdom, I learned what health and taking care of me, my mind, body, and spirit truly was about.  Living healthy is individual for each person, what someone needs to do for their own self is what they have to learn.  "Every-Body" is different, unique, and created like no other.
What does it mean to you to be a 'strong woman'?
A strong woman to me is a female who is able to love herself completely inside and out and pave a path in her own individuality while building a bridge to help others do the same.
Who is one of your female idols?
My Mom: she stands in who she is and always stood for me no matter what. When I fell, she never leaned over to pick me up , she helped me learn how to get up without fear knowing that I was able to reach out and grab her hand if I needed to.
In what way do you help to inspire others?
For me, inspiration is about breathing life, creativity, and love into the hearts of individuals.  I do that through presence, listening, and choosing words and actions that I know will reach someone's soul.  It may be through a gesture, a hug, a smile, a dance class, or a Facebook post, yet it encourages someone else on a deeper level to feel seen, heard, and/or recognized.
What are your goals for the next few years? (no matter how big or small?)
Become an inspiring voice in the dance/fitness industry.
Produce/Create a kid's show involving dancing, singing, acting, and education
Travel the world sharing dance, movement, and inspiration while I experience culture, food, and the way of life in other countries
Get married
Witness my family and close friends happiness and lives as much as I can
Write something that will encourage people to take action on loving themselves and others
Be in my best mind, body, and spirit shape each and everyday
What is your advice for women who are looking to discover their greatness & live a healthier & happier lifestyle?
Know who you are today. Know what you think, feel, believe, want, need, value, sense, and love. Know where you have been, where you are, and where you want to go today. Always continue to know you from the inside out.  How does your body move, what brain are you dominant in, what fuels you and your life, what objects in your home energize you, what foods make you feel alive, what people encourage you to be who you are.  This journey is a never – ending story that YOU are writing and creating in every breath, thought, action, feeling, and word.  YOU get to choose, the choice is yours.  What are you waiting for?
Anything else you would like to add?
A jazz hand!!!