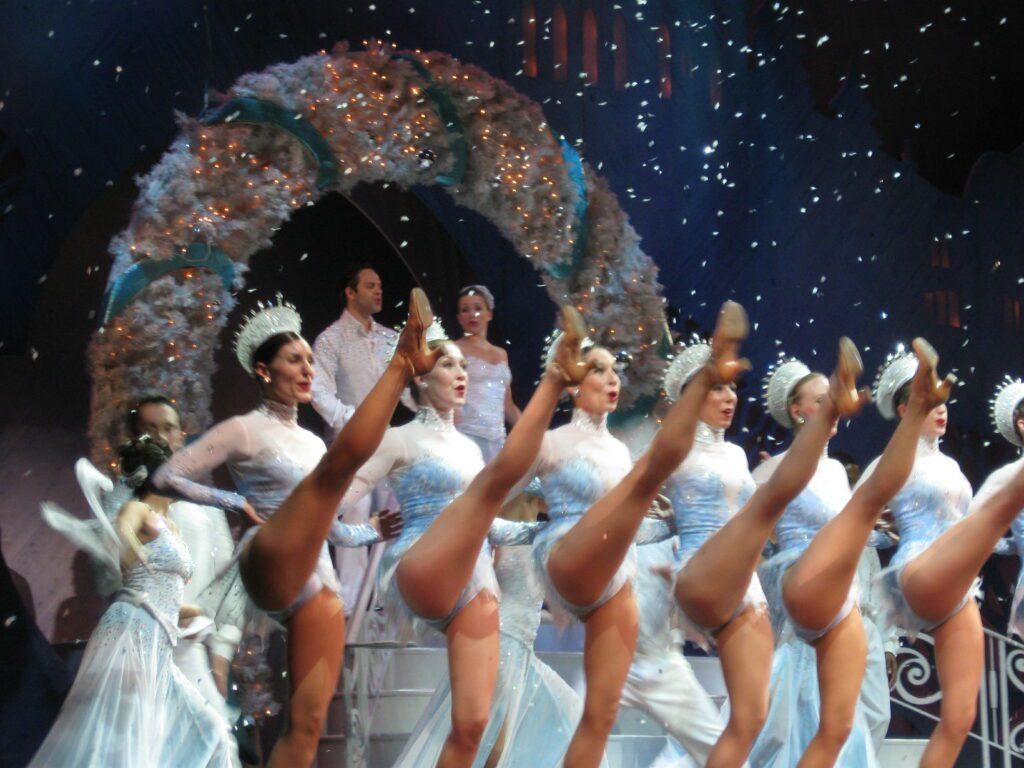 Ah, the grand premier! Gina Pero remembers it well. She was four years old and already inspired by the spirit of dance. So inspired, in fact, that she danced right into the stage curtains. When her mother saw her little girl get caught there in the drapery, she thought for sure that was the end of that.
Instead, it was just the beginning. Curtains aside, Gina fell in love with the stage.
"I was a shy child," she says. "But not on the stage. It was that distance, being high up, that space between the stage and the audience, that fine line. I loved the lights. As soon as the lights hit me, I used to get that feeling like no other, like I was supposed to be on stage."
Dance turned out to be the one thing Gina Pero cherished almost as much as her family.
"Growing up in Batavia was great because my entire family lives there," says Gina. "We're a very close family."
Literally close. Gina told me how she used to walk to her "Nana and Papa's" house, just down the street, where she would fill up on homemade Italian meals—her favorite. That's probably the hardest thing about living in New York City now, she admits: being away from everyone back home.
But for the next month and a half she won't be too far.
On November 13, Gina will take the stage as a Radio City Rockette at Shea's Performing Arts Center in Buffalo. The Radio City Christmas Spectacular will run nearly every day from then until November 30—sometimes up to four times in a day. (Follow the link above for ticket and showtime info.)
"For me to be a Rockette, I feel strong, I feel that I am a strong woman," she says. "I love the womanhood that is happening with the girls."
Rehearsal is strenuous, says Gina. All of the girls rehearse for at least six hours a day, not counting the time they spend before rehearsals warming up or the time after in the ice baths, cooling down, or, after all of that, the time most girls put in, still practicing, working late with the athletic directors, the choreographers, the stage managers.
"We have everything in the palm of our hands," she says.
Life as a Rockette may have been "one of the most amazing experiences" of Gina's life thus far, she admits, but it hasn't been the only one. Receiving her Bachelor of Fine Arts in dance education from the University of Buffalo in 2002 was a fine moment. Dancing with magician Jason Byrne in Japan wasn't too bad either. Nor was going larger-than-life as a billboard model for the show "Air Play" at the Tropicana Resort in Las Vegas… to name a few. Let's not forget, either, that Gina was a heck of a cheerleader at Notre Dame, where she also landed herself in the national honor society.
These days, Gina's especially proud of a program she started in New York City called Inside Out. She explains it as "a program to help artists find their inner voice and stay positive." The idea is to "keep artists from giving up and help them find out who they are and to appreciate what they have."
For the folks back home who haven't yet been down to the Big Apple, Gina's got a helpful tip: "Know your train."
"It's fast paced here," she says. "We drive everywhere in Batavia, but in New York you walk or take the train. There's a lot more variety of things to do, as far as anything for anybody. Anyone can go there and find work and find fun and find a place to live."
Talking to Gina, who seems to have done more than most folks do in a lifetime, you get the sense that she has only just begun.
"I want to continue doing everything," she says. "I want to perform forever. There's no feeling like the feeling on stage. I'm really looking forward to opening night at Shea's. It's going to be an amazing experience for me and my family."
Originally posted on The Batavian.