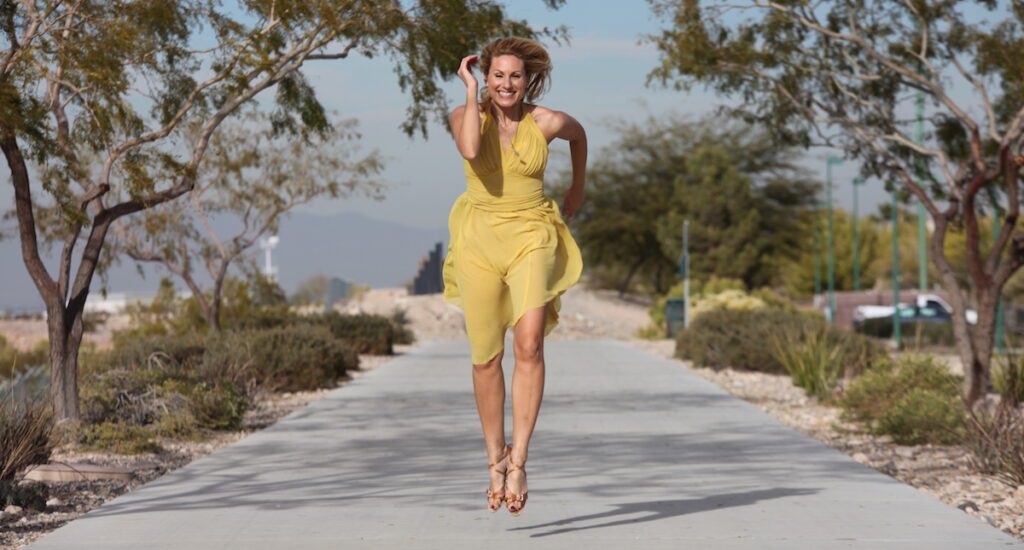 Originally posted on dancemagazine.au
Dance Informa's Linda Badger recently had the privilege of speaking with Gina Pero. Pero is a renowned dance artist currently based in Las Vegas, with immense experience spanning the east and west coast of the USA. An ex-Radio City Rockette, and having worked for some top artists and events in the U.S. entertainment industry, Pero is also an inspiring master teacher and performance coach.
When Pero was faced with a near career-ending brain and spinal injury, she learned to turn her pain into purpose. Now the path she followed to recovery influences her current work as an artist. This interview is a must read for any dancer facing injuries (and don't we all?!) and for those who need a little inspiration to help them follow their dreams.
Tell us a bit about your background and experience as a dancer.
"I grew up in Batavia, New York, where my parents put me in dance class at the age of four, in the hope of bringing me out of my shell. I received diverse training, having studied at Suzanne's School of Dance, David DeMarie Dance Studio and Little Red Dancing School. Upon graduating high school, I chose to continue my passion for dance and attain my Bachelor of Fine Arts from the University at Buffalo.
My professional career began in Las Vegas, Nevada, where I performed in Airplay at the Tropicana Hotel and Casino and in the professional dance company Solstice. I danced in many Vegas shows thereafter, including: Charo, Iron Beats (lead and dance captain), Las Vegas Magic, New York Rhythm House and Rocktellz and Cocktails (assistant choreographer), starring Meatloaf.
During my performance career in Vegas, I also was a top freelance artist, in which I danced for the Latin Music Awards, the Trumpet Awards, the Boogie Nights Band, Olga Breeskin, Otis Day and the Knights, MTV, TRL, Nike, Lucky, Guess and many more. After booking a dance agent in New York City, I chose to expand my comfort zone and relocate. In the Big Apple, I danced as a Radio City Rockette, with the Red Vern Collective Dance Company and in the movie Louis the Film. I then chose to perform as a solo artist for the remainder of my career with work displayed at the University at Buffalo, The Manhattan Movement and Arts Center, The Columbus Dancesport Classic and The Crossing LV as their artist in residency.
Today, I choose to perform as a solo motivational speaker, using dance as my platform to inspire others to live their life free in their mind, body and spirit."
Out of all of your amazing performance opportunities, what was one of the most unique, interesting or exciting?
"Performing as a Radio City Rockette my first year in Buffalo, New York, and 60 members of my family in the first four rows of the theatre applauding me! At that time, I remember being backstage before the curtain rose, and tears of joy and gratitude were rolling down my face in awe that in this moment, God had brought all of us together to experience and witness what Christmas was all about. This was my way of giving back to them and sharing with them the one thing that kept me alive: dance. I will never forget that night. It was more than being a Rockette; it was purpose."
You have experienced some potentially tragic injuries. Tell us how you dealt with these, physically, mentally and emotionally?
"At the age of 12, I was diagnosed with scoliosis. Five years of my life were subsequently spent in a back brace. For 16 hours a day, I was limited in my mobility, insecure in my mind and fearful for my future. The only time I felt free was when the back brace came off for dance class. Dancing uplifted my spirit and gave me the chance to move. At the age of 16, I met a compassionate dance teacher, Cayla Marilyn Allen, who taught me how to own my condition and implement the principles of alignment. She recognised my potential, helped me quiet my inner critic and provided me with the proper training that allowed for the quality and longevity of my career. With her as my mentor and mirror, I was able to appreciate and recognise my worth, and understand proper body placement and alignment for my body to continue my dance training at a high level.
In 2009, I was hit backstage in the head while performing with the Radio City Rockettes and learned how to handle a brain and spinal injury. Right after the accident, I remember trying to text someone on my phone in the car ride to the emergency room and was unable to formulate a sentence. Although I 'thought' I was okay, I knew from then on that something was 'off'. Through back and forth doctor visits, to pushing myself to get back into the show, I underwent some major delays, emotional roller coasters and excruciating pain.
For the next three years, I worked alongside a constitutional homeopath, cranial sacral therapists, physical therapists, a reiki master, a non-force chiropractor, structural integrative body workers, a concussion specialist, and I myself started taking courses about the brain and nervous system to fully understand this 'conscious hit to my system'. I was able to slowly start dancing after three months of recovery, and that was very helpful, too. The Simonson technique method was a huge part of the healing in mind, body and spirit while living in NYC.
For anyone who undergoes any injury to the brain, from my dancing heart to yours, it is what keeps us moving, thinking, talking, walking, being and doing every single day. It is an essential part of our well-being, and I am blessed to have known so much about the body before my injury took place that I was able to fully recover mentally, physically, emotionally and spiritually. It was not an easy journey, yet a transformational life changing event that has allowed me to create the life I am living now."
How has this come to influence your work as a dance artist?
"As a dance artist, our body is the vehicle in which we express, move, make money, serve others, enjoy life and live fully. These injuries taught me that the most important vehicle we own is our body, in mind, in body, in spirit. The spine being the reason we sit and stand, the brain being the reason we move, we speak, we feel, we think. In knowing and understanding the spine, the brain and the nervous system, I am able to help others know and understand themselves inside and out.
As a dance artist, it is our responsibility to fully take care of our vehicle so we are able to serve the world with our gifts. I am able to teach other dance artists about why they get nervous before taking the stage, how to pick up choreography quickly, choose their thoughts, find freedom in their bodies, increase their attention levels, decrease anxiety, communicate effectively and, most importantly, love and honour who they are and the body they have been given.
These injuries not only influenced my own optimal health and well-being, they have influenced the world globally in that I am able to share this knowledge, experience and wisdom to other artists so they can choose what is best for their optimal health and well-being. For me, dance was what healed my pain and gave me freedom, and now I am able to help other dancers live a life feeling free, alive and worthy."
You teach the Simonson Technique. What is this technique, and how did you come across it?
"I received my certification in Simonson Technique in 2011 after my Pilates teacher took me to my first Simonson class in NYC in 2008. Created and developed by master teacher Lynn Simonson, the Simonson Technique is an organic approach to movement that prepares the body to dance in a way that is anatomically intelligent and somatically aware. The goals of Simonson Technique training are to eliminate the predisposition of injuries from previous misalignment patterns, develop and support the body in a way that allows efficient and free movement and to experience the joy of dance with longevity and wellness.
The six principles are: deep stretching, alignment and placement, use of weight, plié, use of breath, and mind/body connection."
How do you believe it benefits dancers?
"The benefits of the Simonson Technique offers dance artists a new approach in the classroom and in their everyday life. It increases one's knowledge about properly stretching, body placement, breath, use of weight, plié, and the mind/body connection based on their individual mind, body and spirit. This method teaches to the individual rather than the group, allowing each person to focus on their needs, who they are and their own goals.
It increases range of motion, articulate listening and an approach to movement that can help you dance as long as you want to. It creates space in your body and in your everyday life, helping you achieve feelings of success rather than not feeling good enough. It enlivens your spirit each and every class, rejuvenates your physical structure and reminds you of why you chose this art to begin with. The benefits are priceless to me because, at one point in my life, I almost gave up the gift of dance and movement, and this method helped me feel again rather than focus on what I looked like. I want to thank Lynn Simonson for creating a life-changing and soul-charging approach to movement."
What would you say to young dancers facing possibly career-halting injuries?
"#1. Fully feel the injury right away by expressing the pain in words, emotions, tears; make sure it is in sound. Express the truth, face the truth, feel the truth right away.
#2. Fully heal before returning to the dance floor. This takes patience, listening, love, courage and understanding. 'Fully heal' means feeling no sensitivity at all. Sometimes that feels like a pinch — a small headache is your body telling you something is out of alignment. Listen. Your body is always speaking to you.
#3. Ask for help as much as you need. Make a list of all the things you can do and want to do while you are out of the classroom. Write down the lessons you have learned from this obstacle. Talk about all the things you do have and are grateful for. These help the brain re-pattern the memory of the injury, and you start to re-write it. This is powerful when we can turn our pain into our purpose, after we fully feel the pain first. Creating a vision for your life is also helpful to keep you focused on something bigger than the injury itself.
#4. Fuel your body with proper nutrition, water, love, information about your injury, people who encourage you, inspiring movies, books, videos and breath (oxygen). It is one of the fastest ways to heal the body quickly. Maybe someday I'll be able to teach those of you reading this those exercises!"